Servers will be down due to maintenance
Hello truckers,
We have prepared another set of improvements for our servers. We need to shut down the servers to deploy all the updates correctly. Therefore, we have scheduled the maintenance for Wednesday 24th May, at 9.00 am GMT+2.
If everything goes according to plan, the servers should be online approximately an hour later. Please note that during this time, online games won't be available. We apologize for any inconvenience and thank you for your understanding. See you in a smoother game.
CGE Team
Server online again
Everything's done, so we're glad we can say we're back. The update of servers is done, so the game should run fast and smoothly. If you experience any issues, please, let us know!
Enjoy the game!
CGE Team
Server maintenance
EDIT: The server update takes us a bit longer than expected. Don't worry; we gave you enough extra time to reserve. Thanks for your patience, and sorry for the delay.
We have to schedule a short server downtime since 1.00 pm GMT+2 for maintenance. The downtime should take about 1 hour.
All players on their turn at that moment receive extra time, so they don't time out.
Sorry for the inconvenience, and thanks for understanding.
CGE Team
Let's celebrate the spring season
Spring is almost here. We prepared a special offer for this occasion! Download our digital games with up to 50% off, so you have your favourite games in your pocket, no matter how wild is nature around you.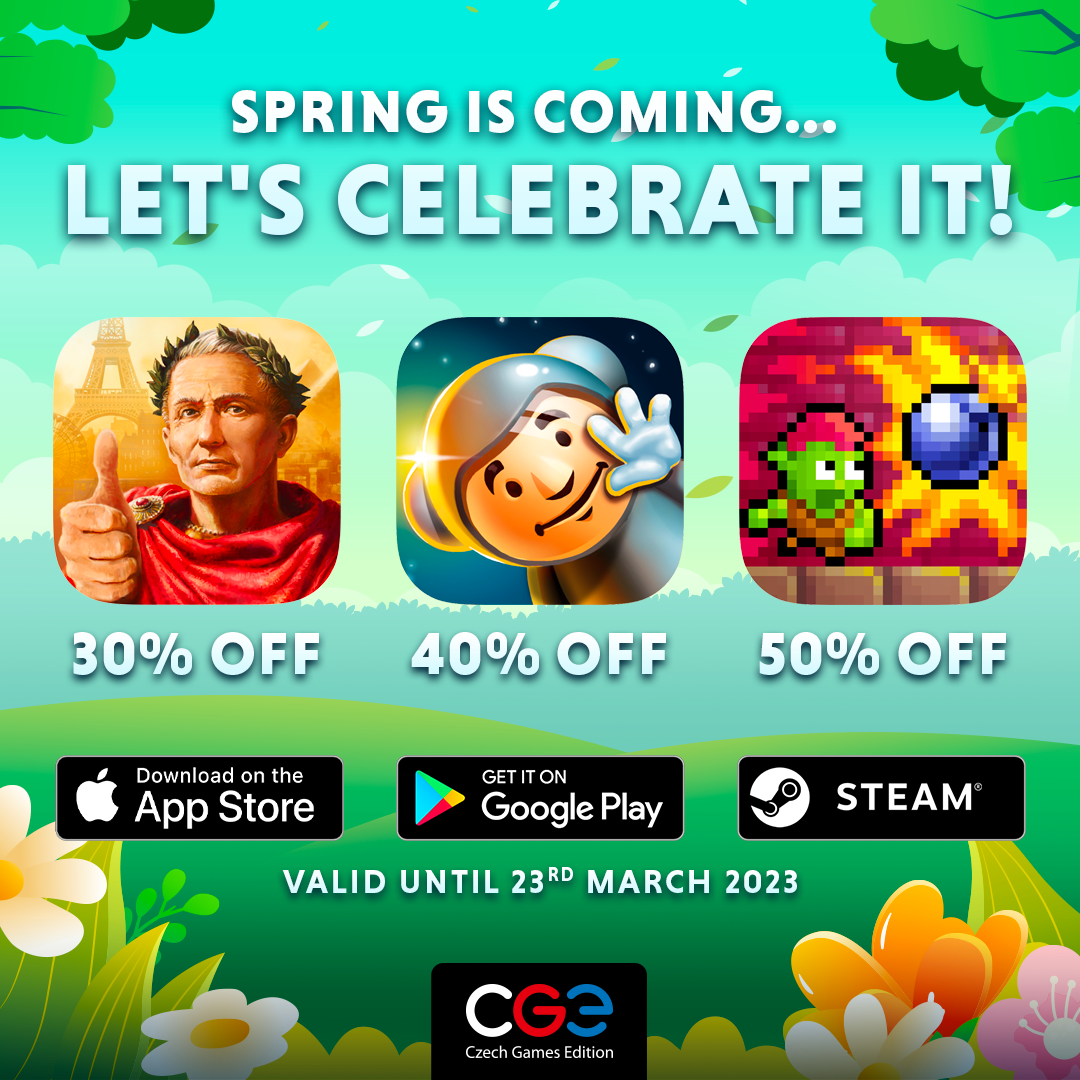 Server update
Dear truckers,
Update of our servers is scheduled to Wednesday between 9.30 to 10.30 am CET. In that time, it won't be possible to play reliably. We strongly recommend you not playing fast games.
To make sure that the update will not disrupt your game, all sessions will get a time bonus.
Thank you for playing!
CGE Team
Happy International Tabletop Day, truckers!
This day is dedicated to our beloved hobby. To celebrate it, we put our digital adaptation of our board games into a sale. Grab Through the Ages with 30% off and enjoy our games with your friends online.
Through the Ages is available on Google Play and AppStore.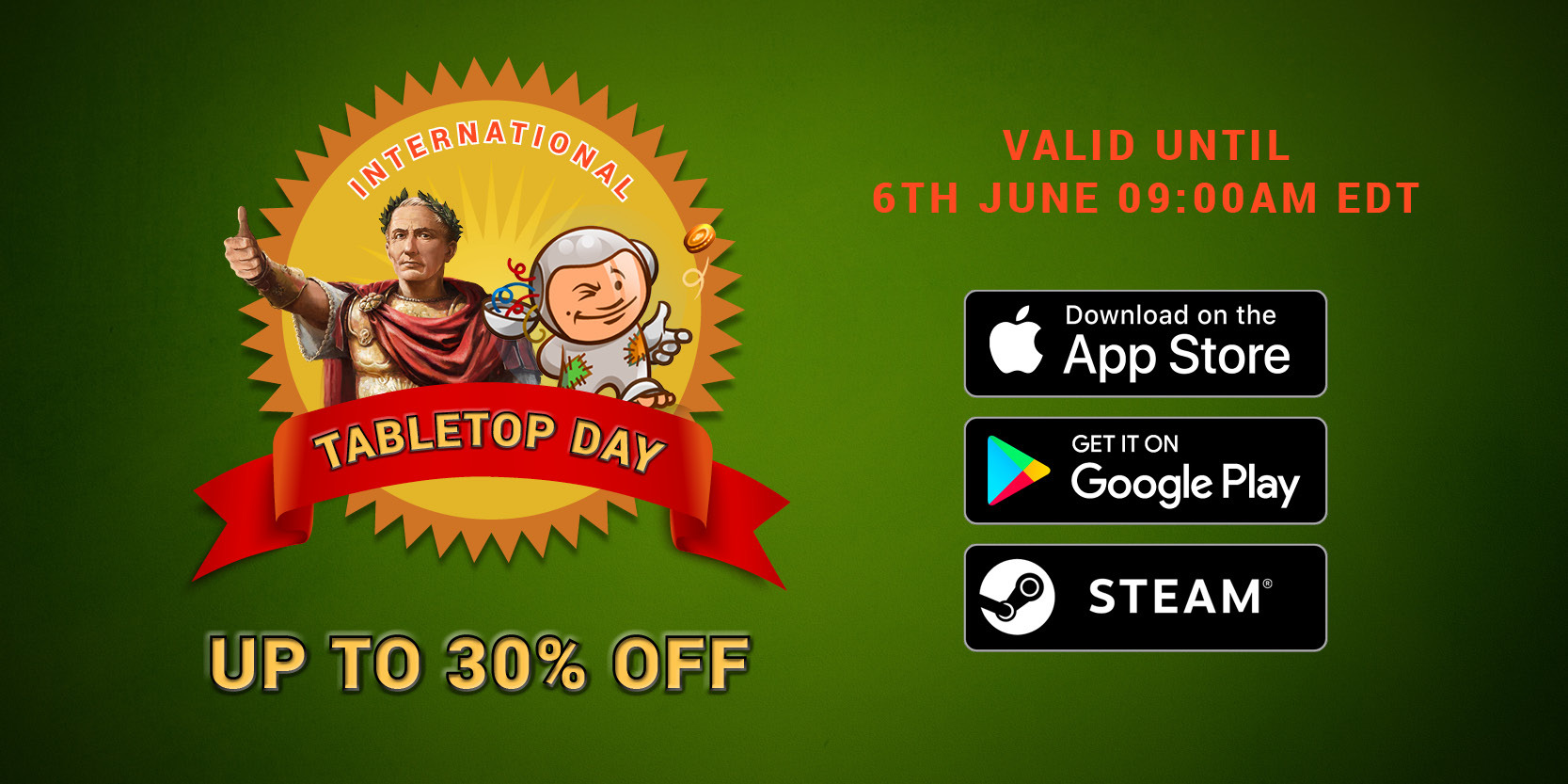 Boom Mania is released now
Do you like our games?
In that case, we have really exciting news for you! We're happy to announce a brand new game developed by our very good friends and colleagues Dan and Dávid and published by CGE.
Help Vic, a young goblin, on his quest to save his fellow green friends kidnapped by the evil dragon lord Xaraxas. This retro-styled arcade game, inspired by 80s classics like Bomberman and The Legend of Zelda, will put your bomber skills to the test. Are you ready for a real challenge? Download now and enjoy our new game!
Boom Mania is available on AppStore and Google Play.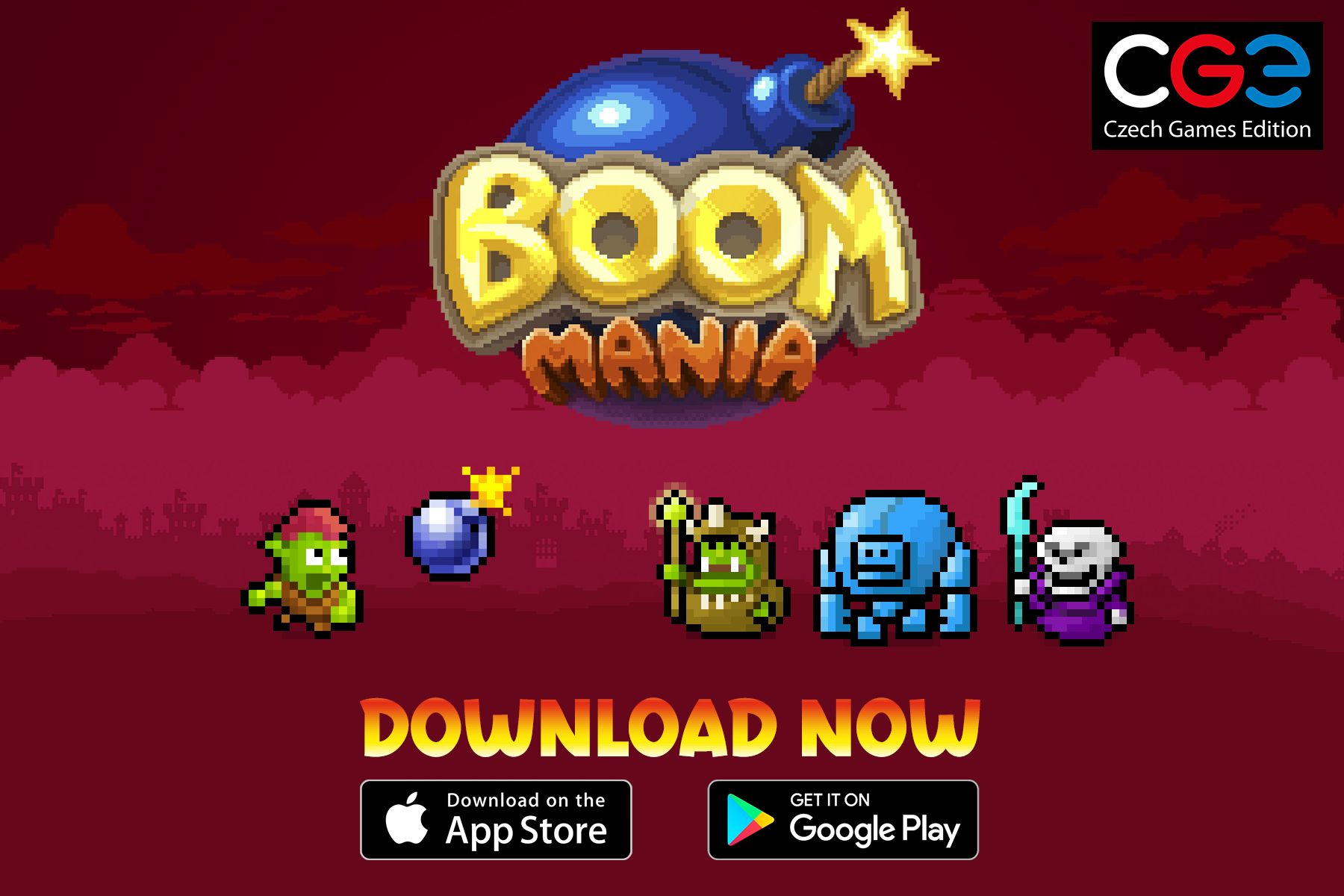 Galaxy Trucker, the board game: just released!
We're not talking about the Galaxy Trucker board game, originally released in 2007, the predecessor of your gaming app, but about the freshly relaunched edition of this ageless classic!
It's modernized, faster, more accessible, and just as fun as ever.
You have been training for this moment for a while. So put the Galaxy Trucker back on your tabletop and watch fellow players' ships explode as you fly on to victory.
Order now and enjoy a peaceful but galactic Christmas! Available right now in your favorite local gaming shops or on
Amazon.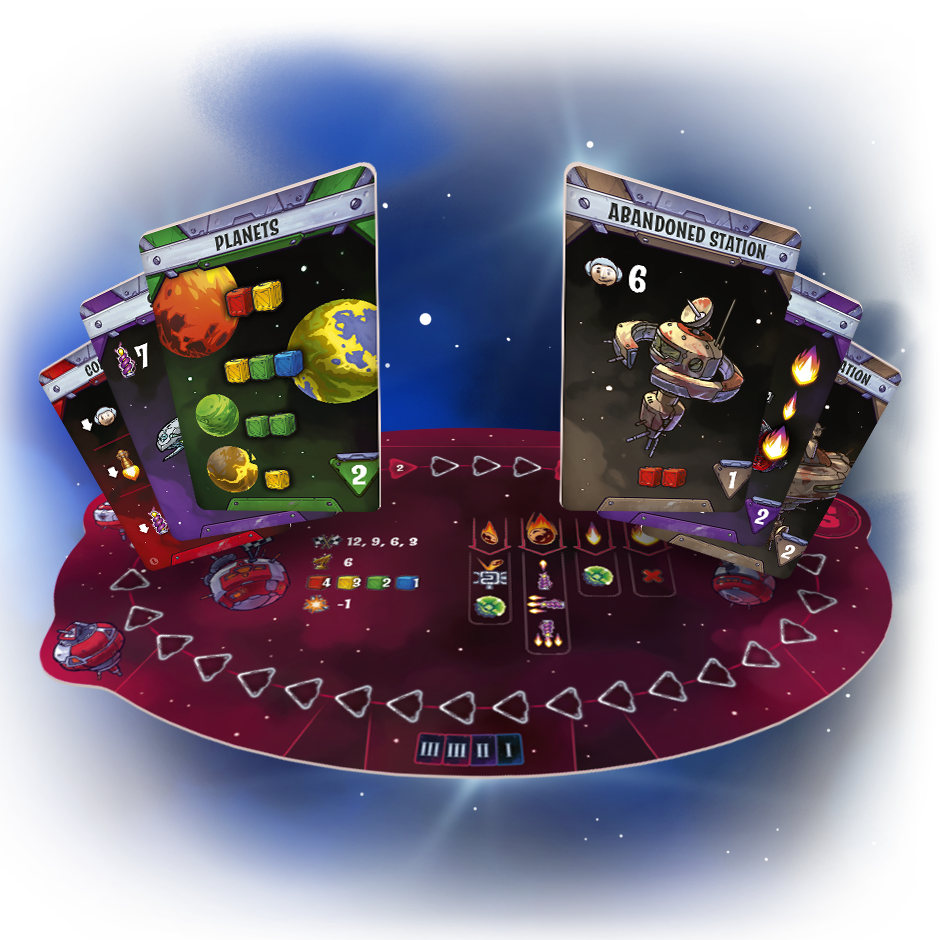 Presents Delivery Mission
Merry trucking and happy holidays to everyone, the Presents Delivery mission starts tomorrow! Spread the joy by delivering all the carefully wrapped gifts around the galaxy, and feel like the real space Santa Claus!
So hurry and board those tree-shaped ships, these presents won't deliver themselves!
Spooky Halloween Mission is back!
Hello, brave truckers! It's Halloween time again, which means that our traditional Trick||Treat mission is back!
Board your pumpkin ships and go hunting for the delicious hazardous sweets.
But beware, the road is dangerous, full of ghost ships and other kids willing to fight you for the tasty treats!
Galaxy Trucker goes 64-bit: Now playable on the newest macOS!
Dear Truckers,
We have good news for Mac users among you! After weeks of testing, the 64-bit version of Galaxy Trucker for macOS is finally out on Steam – so now you can build epic space ships and deliver valuable goods also on the newest macOS - Catalina and higher.
Thank you for your patience and support, and enjoy the best galaxy trucking
Board Games Delivery Mission Results
Hello Truckers!
Big thanks to everyone who took part in our annual Board Games Delivery Mission – we hope that you enjoyed hauling all these colorful boxes across the galaxy :) And of course, congratulations to Dudkus, Lealuna, and Teufelted, our randomly selected winners who helped us deliver our games across the galaxy!
If you already know which CGE board game you would like to get as your prize, please, let us know at jana@czechgames.com.
May the Fourth be with you all and keep trucking!
Board Games Delivery Mission
Hello, brave truckers!
Our annual Board Games Delivery multiplayer mission starts today! Even though Tabletop Day isn't an option this year, you can still join us and help us deliver our board games across the galaxy.
Three lucky truckers that deliver the game boxes safely will also win a physical copy of one of our board games.
The winners will be announced on May 4th, so start your engines and good luck!
Halloween mission is back!
Hold on, trucker.
Did you hear that? Huh, I guess it was just some rocks along the way. They say this ship is haunted, you know. Methinks it's because of all the toxic cargo we're hauling in the holds. Keep your wits about you, trucker, and ignore the howling coming from the ship. It's definitely not ghosts, don't be silly! Ghosts don't exist, of course.
Just keep on truckin' and watch out for those abandoned ships littering the empty space in our traditional Halloween mission! Don't get caught in a fight between the other kids trying to get more treats than you!
Galaxy Trucker Tabletop Day 2018
Once again, you can enjoy special "Board Games Delivery" multiplayer mission to celebrate International Tabletop Day.
Join us to deliver precious boxes full of gaming goodness across the galaxy!
Three lucky winners will get one of the board games they delivered.
The mission will be
available from Friday to Monday
, but to give chance also to the players who prefer turn-based games, the winners will be determined from all games finished until end of the week. And by the way, if you have a friend who does not own Galaxy Trucker Digital yet, let him know that from
Friday to Monday both the app and the expansion are only $2.99 on Android & iPad and free on iPhone.
Enjoy your flight!
Rocky Road Contest Winners
Congratulations to 10 brave truckers who looked after Wally in our Rocky Road Contest
0rr0z
Marieke
AlienFan22
Charaby
houdinijar
Eyvonne
SpaceyP
Tfreeman
Anny
SolomonXoc
These people have won Galaxy Trucker: Rocky Road novel. Hurray!
But there is also good news for all of us: the eBook is available for special price of $2.99 for the whole Holiday season.
Rocky Road Contest
Wally is traveling the galaxy, promoting the book Rocky Road. Who knows, maybe the alien you just hired for your ship is Wally!
From all brown aliens you load onto your ship between Dec 13th and 18th in any online game or mission (Rocky Road mission is a good fit for that, though), we will randomly pick 10 Truckers who hired them and they will win the book.
If you have trouble getting to Online lobby, please check that you have a new update installed.
We wish you a Happy Galactic Trucking!
Let's celebrate the World Toilet Day!
November 19th is the World Toilet Day. As we truckers know, sewer pipes are the foundations of the civilized world and they also hold our spaceships together. So, such an important date is a good opportunity for a small celebration.
Each player will get twice as much experience for each online game or mission that has begun on November 19th!
As always, see you in the lobby!
Through the Ages app has been released!
We've just released our second big app - Through the Ages for iOS and Android! It's the official adaptation of Vlaada Chvátil's strategy classic, the second best board game ever according to Board Game Geek website.
OVERVIEW:
- Hundreds of cards to build a mighty civilization.
- Explore the many paths to victory.
- Manage your resources carefully.

It's your chance to make history!
If you want to purchase the app, just tap the "More Games" button in the "Extras" section of your cockpit.
Also, we bring you two new online missions, so you and all the truckers may celebrate with us. In "Wonders" and "Alien Wonders" missions you may build your own space wonder. Enjoy!
Massive update is here!
Great boost to your Galaxy Trucker experience is here! We bring you:
Saving campaign progress and achievements into cloud
So you can carry it over to your other device.
Friend lists and online player profiles
Chat with your friends and fellow truckers easily, and see what they are up to - in the app, or on the new CGE online web.
Turn-based games can start automatically
You don't have to wait for the creator of the game starting it manually, the game will start itself when it's full.
Real-time games more user-friendly
The game remains in the lobby and you'll be notified when people join your game.
Better notifications
We let you know when someone reserves a slot in a game for you and when your time is close to run out in a game.
Galaxy Trucker: Rocky Road - eBook!
This will be brief today because we know you like the action, brave trucker! But if you would welcome some relaxation time with a good book while sitting in your comfy cockpit, we have a good news for you:
Galaxy Trucker: Rocky Road eBook is available!
The book is full of humor about Francesca Flores, a hardcore trucker, and Wally, the little brown alien who wants to be her buddy. Awaiting you in
Amazon / Kindle / iBooks stores!
Galaxy Trucker Novel!
Do you enjoy trucking, despite your ship keeps being blasted in pieces? So does Francesca Flores, hero of the first Galaxy Trucker novel.
Galaxy Trucker: Rocky Road was written by Jason A. Holt, whose funny writing style you know both from the board game rules and from the campaign. And it just hit the stores in North America! Rest of the world will follow in July.
Hitch a ride with Fran, a hardcore trucker, and Wally, the little brown alien who wants to be her buddy.
"Ladies and gentlemen, this is your driver speaking. We seem to have encountered a stretch of rocky road. By company policy, I am encouraged to remind you that your safety is not guaranteed. Please utilize the nearest escape pod if you wish to discontinue your flight."
Tabletop Day Mission
To celebrate International Tabletop Day, "Board Games Delivery" multiplayer mission returns. Join us again to deliver shiny boxes full of gaming goodness across the galaxy!
Three lucky winners will get one of the board games they delivered!
The mission will be available from Friday to Monday, but to give chance also to the players who prefer turn-based games, the winners will be determined from all games finished until end of the week.
By the way, if you have a friend who does not play Galaxy Trucker yet, let him know from Friday to Monday both the app and the expansion are just $2.99!
Have fun!
The celebration with Galaxy Trucker has just begun!
Hello Truckers
Ten years ago, the very first prototype of the board game Galaxy Trucker was made, tested, and...you know how the story continues. Because you are part of this story!
Starting right now, all week, the expansion Alien Technologies will cost only $2.99 Celebrate with us!
10 days of Merry Trucking are ready! Are you?
We have for you very special holiday missions. Over Christmas, you can deliver nicely wrapped gifts in three sizes of tree shaped ships, and around New Year - BOOM! - the most explosive mission will light up the galaxy with fireworks.
Wishing you joy and adventures for the holidays and always!
Alien technologies
Alien Technologies, the first huge expansion of Galaxy Trucker app, is here to provide lots of new gameplay!
Meet the characters you know from the campaign and some new ones. Let them to guide you through singleplayer challenges that discover new components, cards, ships and aliens. Put your trucking skills to test by beating the challenges in the hard mode. Add the new elements to your singleplayer or multiplayer games. And have fun with special Alien Technologies multiplayer missions.
Contact Mr. Salesman that is floating in your main menu and continue exploring galaxy using the brand new Alien Technologies (and one ancient human technology, too :)).
Tabletop Day Multiplayer Mission
Hey, fellow truckers. You might notice there is one extra multiplayer mission these days. Help us to deliver board game boxes during the International Tabletop day weekend!
Beside the fact it is a completely new and interesting mission, three of you will be rewarded by one of the games they deliver. The more and the bigger games you finish, the better chance to win.
The mission will be available until Tuesday, 18:00 UTC. But to give chance also to the players who prefer turn-based games, the winners will be determined from all games finished until end of the week. Faster speed settings are still recommended for turn based games.
Happy Tabletop Trucking!
Merry Trucking!
We have chosen the five most played multiplayer missions of the year and are giving them as a small Christmas present. From the 22nd December, any of these five multiplayer missions can be played all week long!
We'd also like to take this opportunity to wish you the best for the festive season and hope that 2016 is full of joy.
We have more to come for you next year!
Pipe Wars
Maybe some of you have just seen a movie about the fate of the galaxy. But how about meeting online to actually decide the fate of the galaxy yourselves?
Realtime games and missions played from December 17 to December 20 grant more experience: 2x for 2-player games, 2.5x for 3-players and 3x for 4-players.
May the force be with you!
Multiplayer missions variation
We know you have a blast with Multiplayer Missions! We are playing them with you, too, and we have heard from you, there's just so much good stuff appearing quite quickly to enjoy all of it, especially in the turn-based games, where you can play various missions at once.
We have decided that new missions will now appear every three days instead of just two days, so you have more time to enjoy it and find the best tactics.
Also, the most popular missions will be appearing again, some of them with slight variations of rules or rewards. It's like seeing old friends... and pirates... and aliens... :)
Note for Achievement hunters - if the same mission repeats, it counts as a different mission for Mission Specialist achievements.
New languages
Galaxy Truckers now speak spanish, french and polish! Hurray!
Plus, we fixed some more bugs. Hurray again!
Multiplayer Missions are here!
Each missions had its own rules, offering new possibilities of how to play the game. And do you remember those fantastic explosive, radioactive, heavy and fragile cargo components from campaign? - Now you can play with them in multiplayer with your friends!
Every 2 days, there will be new challenging mission ready for you to explore! Some missions just slightly alter the rules, but some really test your abilities - you have to take risks, face massive destruction and invent new approach for every mission.
Start a new mission by tapping the New Mission button in the online lobby, or join one. Don't forget to read the mission rules! :) And show other truckers who is the best, most adaptive trucker in this part of the universe!
Fast week / Schnelle Woche / Быстрая неделя
Let's celebrate the game is now in German and Russian languages by a week of realtime playing!
Any real-time game started from now until Jun 2nd grants you more experience! 1.5x for two player games, 2x for three player games, 2.5x for four player games!
Have a good flight :)
New languages
Welcome our Russian and German friends!
In the last update we implemented localization to German and Russian. Welcome new players or change your language to your native. If you don't update, you might see question marks in names of new truckers, game titles or in chat.
WELCOME THE WINDOWS PHONE PLAYERS
Today, Galaxy Trucker has also launched on Windows Phone. Yeah, that means... fresh meat in multiplayer! Give a warm welcome to all the new players:
Any game started from now until the end of April will grant you twice as much experience, as long as at least one player of rank 1-5 is included.
FEBRUARY 2015 UPDATE
Good news: iPhone players can safely play real-time games with iPad and Android players now. Yay!
We apologize it took us this long; there were some other space bugs crawling the pipes of multiplayer ships. Some of them were really sneaky and malicious, but our heroic team hunted them relentlessly over the past weeks, and we believe the fight was victorious. We apologize if these bugs chewed up some of your games. Most of the games in progress and all the new games should be safe now.
There were also some other minor bug fixes, the multiplayer lobby performance was improved, and generally, the galaxy should be a sunnier and happier place to go trucking.
A new feature: In turn based games, it is now possible to take a look at the known cards, even during the flight.
That's right! We play Galaxy Trucker too, and we know that especially in asynchronous games, it is impossible to remember the cards you have seen and thus you cannot use this knowledge to make the right decisions during the flight. Not anymore! Tap the eye icon next to the cards pile during the flight to check what cards you have seen are still remaining in the deck!
Note: This does not apply for real-time games. In real-time building, looking at cards is part of the stress - it is up to you to decide whether to spend your time trying to memorize them, or just to peek at them, or ignore them completely. And real-time games are not played asynchronously anyway.